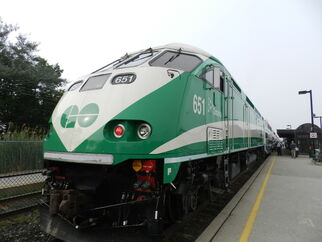 The MP40PH-3C is the third MPXpress Locomotive to be introduced. This unit is rated at 4,000 hp and primarily uses a 16-710G3B prime mover and a CAT C18 engine for HEP. EM2000 microprocessors are used vs. Wabtec Q-tron for MP36's. Engine options include dual Cummins QSK60s, providing a power increase to 5400hp.
This locomotive is used by both Metrolinx (GO Transit) in Ontartio, Canada, as well as Sound Transit in Seattle, Washington, USA.
In 2007, GO Transit was looking to expand its fleet, and to replace its roster of aging F59PH locomotives. The requirements were: to be able to deliver 4000hp, with a separate engine for the HEP generating system. It also had to be able to pull 12-car trains single handed. Only two manufacturers responded; MPI and GE. MPI's product, the MP40PH-3C, was ultimately selected over a competing design by GE.
GO Transit ordered 27 locomotives of this model to replace their aging F59PH  fleet, which were delivered in 2007 and 2008. An order for 20 additional units was signed in July 2008. They have been delivered currently on delivery. In February 2010, yet another order was signed for 10 additional units. It was announced on November 1st, 2011 that GO Transit would be swapping out the EMD prime movers of 11 MP40s for the new Cummins QSK95. It is currently unknown if the engine swap program will be expanded to include the rest of the GO fleet which is still relatively young.  More recently, it was decided that two QSK60s would be installed in lieu of the QSK95. This would provide a power increase to 5400 horsepower and improve emissions to EPA Tier 4 standards. GO would like them repowered before the 2015 Pan-American games. As of 2016, one MP40PH-3C (unit 647) had the EMD prime mover swapped out and replaced with the two QSK60s. This would become the MPI MP54AC.
In 2013, GO Transit ordered 10 more units numbered 657-666, initially to replace the remainder of their F59PH fleet (but instead ended up supplementing them), and to expand/increase service on its lines. These locomotives differ from the older (600-656) units because these are Tier-III compliant, as such they feature a noticeably quieter engine as well as a Bombardier regenerative braking system, visible as a thin black "block" above the exhaust section. The locomotives' prime mover and HEP configuration has not changed.
Sound Transit has also placed an order for 3 of these models. They were delivered by 2013, and are used on their Sounder commuter service, alongside their F59PHI locomotives. They are Tier-III compliant.
Specifications/Spotting differences
Edit
While the MP40PH-3C is almost indistinguishable from the MP36PH-3C (aside from the paint scheme), there are a few differences between the two.
The MP40PH only has 2 radiator fans on the top of the unit, as opposed to the 3 fans on the top of the MP36. This is due to the different engine types (16-710G3B vs. 16-645F3B)
A distinctive howl (on pre-Tier III units)
(On Tier-IV certified units: Bombardier brake system/silencer mounted above exhaust vents.)
The following are specifications for the Metrolinx MPI/EMD MP40PH-3C:
Length: 68ft
Width: 10ft 7.5in
Height: 15ft 6in
Prime mover: EMD 16-710G3B-T2 or dual Cummins QSK60
Power output: 4000hp or 5400hp
Can produce enough HEP for 12 Bombardier BiLevel coaches
http://www.motivepower-wabtec.com/locomotives/commuter/mpxpress.phphttp://www.railwaygazette.com/news/single-view/view/cummins-to-produce-tier-4-compliant-diesel-engine.html
http://www.wabtec.com/upload/pressrelease/09.08.11%20-%20MPI%20Locomotive%20Orders.pdf
Ad blocker interference detected!
Wikia is a free-to-use site that makes money from advertising. We have a modified experience for viewers using ad blockers

Wikia is not accessible if you've made further modifications. Remove the custom ad blocker rule(s) and the page will load as expected.