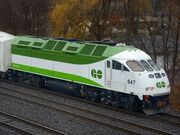 The MP54AC is the fifth version of the MPI MPXpress series and the only Tier-IV compliant locomotive in the series built by Motivepower, Inc. It offers a higher performance than the MP40PH-3C. The MP54AC uses a pair of Cummins 16-cylinder QSK60 engines rated at 2,700 hp each, totaling up to 5,400 hp. This, this locomotive is the most powerful diesel passenger locomotive in North America. During periods of low power demand, the locomotive can operate on just one engine to reduce noise pollution and boost fuel efficiency. The MP54AC was built as a competitor with the EMD F125 and Siemens Charger.
GO Transit is the first to order this locomotive. To make the prototype, MPI used locomotive 647 from GO Transit. Motive Power removed the EMD prime mover and HEP motor and replaced them with the twin Cummins engines. Heavy modifications were made to the body to accommodate extra air intake and exhaust stacks. After modifications were finished, 647 was returned to GO Transit in late 2015. It was seen testing on December 12, 2015 and has since entered revenue service, often paired up with an MP40PH-3C.
Initially GO Transit had planned to convert a total of ten MP40PH-3Cs to the new MP54AC standard, but later opted to instead order 16 MP54AC locomotives and keep the remaining MP40PH-3Cs intact. GO Transit also plans to use the locomotives to finish replacing the last eight F59PH locomotives on the roster.
An alternate designation of the MP54AC is MP40PHT-T4AC.