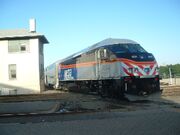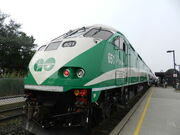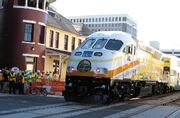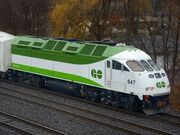 MPI MPXpress is a family line of diesel-electric locomotives built by Motive Power, Inc. (Wabtec Corporation) for commuter rail service. MPI offers the locomotive with a number of customizable options, such as different prime movers and traction motors, Head-end power (HEP) generated by a separate engine or by the prime mover, and new or refurbished trucks. To date, five variants have been offered: MP36PH-3S, MP36PH-3C, MP40PH-3C, MP32PH-Q and MP54AC.
The MPXpress line of locomotives were the first production passenger locomotives to meet EPA Tier 1 and Tier 2 emissions regulations, as well as FRA safety regulations regarding crashworthiness and fire safety. The line also meets APTA crashworthiness standards.
All units are cowl units, like many commuter locomotives today. The only exception is the MP32PH-Q, which is a hood unit. This is because they were all rebuilt from a former locomotive, which is MARC's GP40WH-2. While the MP32PH-Q retains the hood unit layout of the former GP40WH-2, a new MPXpress cab replaces the original cab, reminiscent to the rest of the MPXpress locomotives.
Numerous public transit agencies in Canada and the United States have ordered MPXpress locomotives for their commuter rail services. To date, GO Transit is the largest client for these locomotives, with 67 in their fleet.
In the US, the MP54AC is the only locomotive for sale due to federal emission standards.