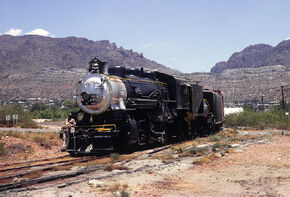 Magma Arizona No. 5
is a 2-8-0 Consolidation type steam locomotive built at Alco's Dunkirk, NY, shops in 1922, and started work as Magma Arizona Railroad #5.
The locomotive used on the Magma Arizona Railroad hauling ore cars from copper mines at Superior, AZ, to the interchange with the Southern Pacific Railroad at Magma Junction, and carrying mine supplies back to Superior.
The locomotive was later renumbered #55 and it hauled its last train on 3rd of September 1968.
In 1970, it was sold to the Oregon, Pacific & Eastern Railway, where it hauled passenger excursion trains until the line closed in 1987. It was then sold to the Moody Corporation, and has since been reliveried as Center for Transportation and Commerce Engine #555. 
The locomotive is seen today on static display at the Galveston Railroad Museum.
No. 5 has starred in several television commercials and movies, most notably in Emperor of the North, a 1973 movie filmed on the Oregon, Pacific & Eastern right of way in Oregon.
#5 also starred in the 1969 film Young Billy Young
No. 5 also starred in the 1971 TV movie "Powderkeg" starring Rod Taylor and Dennis Cole.
This was the only standard gauge locomotive acquired new by the Magma Arizona.