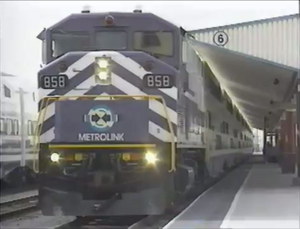 This article or section may need to be rewritten. You can help Locomotive Wiki by improving it!
Please remove this notice if the page has been edited majorly.

Not to be confused with Metrolinx, the Government of Ontario agency operating GO Transit.
Metrolink (Southern California Regional Rail Authority, SCRRA) is a commuter train operator in Los Angeles, Ventura, Orange, San Bernardino, Riverside, and San Diego counties, California. Metrolink began operations on October 26, 1992.
Average weekly ridership is 42,265 as of 2012.
In the 1990s, in an effort to relieve congestion in and around the Los Angeles area, the Southern California Regional Rail Authority (SCRRA), the group who founded Metrolink, purchased track from the Southern Pacific, and gained the rights to use the Los Angeles Union Station, as part of a plan to introduce commuter rail to the area.
Initially, service was based on 3 lines, but quickly grew to 7.
Operations
Edit
Like most passenger railways, and unlike GO Transit (who operate on a Proof-Of-Payment system with only 3 crew members per train), Metrolink operates using the traditional multi-crew formation, with one conductor per car.
Metrolink's railcar and locomotive fleet are largely based on GO Transit-designed F59PH locomotives and Bombardier BiLevel cars.
Metrolink also owns 1 F40PH, 14 F59PHIs, 5 F59PHR's, and 15 MPI MP36PH-3Cs. On order are 40 EMD F125s. Metrolink is also leasing 3 ex-GO transit F59PH's while they are awaiting delivery of the F125's. In addition they are also leasing 40 BNSF AC4400CW's in replacement of the Hyundai-Rotem cabcars which are under investigation from the 2015 Oxnard train derailment.
Recent acquisitions include Hyundai-Rotem BiLevel cars, which provide better protection in case of a collision.
See also:
Edit
Please feel free to add on since I only filled in some facts, not all, and not all of which might be correct.
~VIARailFan25
Ad blocker interference detected!
Wikia is a free-to-use site that makes money from advertising. We have a modified experience for viewers using ad blockers

Wikia is not accessible if you've made further modifications. Remove the custom ad blocker rule(s) and the page will load as expected.