This article or section may need to be rewritten. You can help Locomotive Wiki by improving it!
Please remove this notice if the page has been edited majorly.
The metropolitan line is a sub surface line on the london underground. It is the oldest line. The origianal one linked paddington and farringdom. Nowadays it is huge and is the only sub surface line to go outside of the greater london county. It uses S stock but did use A stock untill recently. Origianally the Hammersmith and City Line and East London Line were also part of the Metropolitan line but nowadays are not.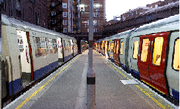 Ad blocker interference detected!
Wikia is a free-to-use site that makes money from advertising. We have a modified experience for viewers using ad blockers

Wikia is not accessible if you've made further modifications. Remove the custom ad blocker rule(s) and the page will load as expected.