Midlander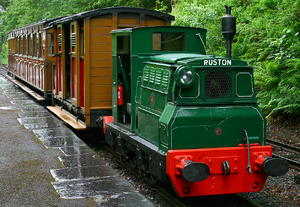 Midlander
Details

Years built

1940

Builder

Ruston & Hornsby Lincoln, Lincolnshire

Number Produced

Unknown

Years in Operation

1940-Present

Fleet Numbers

Works Number 200792, Talyllyn Railway Number 5

4wDM

Number Operational

Unknown

Number Preserved

Unknown

Number Scrapped

Unknown

Dimensions
(l x w x h)

Unknown

Gauge

2'3"
V - E - T - D
Midlander was built by Ruston & Hornsby. He was bought by the Talyllyn to assist Sir Haydn and Edward Thomas in repairing the line. When Talyllyn and Dolgoch returned from being overhauled, he was permanently assigned to maintenance duties. Midlander is the basis of Rusty from Thomas & Friends.
Rebuilt with engine, transmission and superstructure of works number 200800, re-entering service 1980.
Ad blocker interference detected!
Wikia is a free-to-use site that makes money from advertising. We have a modified experience for viewers using ad blockers

Wikia is not accessible if you've made further modifications. Remove the custom ad blocker rule(s) and the page will load as expected.