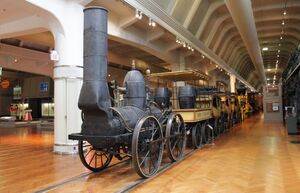 The
DeWitt Clinton
was original designed by John B. Jervis and built by David Matthew at the West Point Foundry for the Mohawk & Hudson in 1831.
It was the M&H's first locomotive (until then, trains had been pulled on the sixteen mile line from Albany to Schenectady by horses), the first to operate in the state of New York and only the fourth steam locomotive built in the US.
It was Shipped to Albany by river boat, it made its debut at a celebration to mark the opening of steam operations on the line.
It, unfortunately, met its fate after only a year in service, and a replica was constructed to commemorate the antique steam locomotive. The replica is now currently preserved on static display at The Henry Ford Museum.
The replica of the "DeWitt Clinton" was built in 1893 by New York Central for that year's Chicago Worlds Fair.
It appeared at the 1933-34 Chicago World's fair, 1939-1940 New York World's Fair and the Chicago Railroad Fair in 1948-1949.
It appeared at the 1927 Fair of the Iron Horse in Maryland, and was used for promotional purposes by the NYC until loaned to the museum in 1935.