The Morrison-Knudsen Corporation (can be spelled with or without the hyphen like with EMD; Reporting Marks: MKCX, MK, MKR, or MPI) is a locomotive builder and rebuilding company.
The Morrison-Knudsen Corporation was founded in 1912 by entupreuers Harry W. Morrison and Morris Hans Knudsen as a steel industry which provided steel for various companies who constructed buildings around the city of Boise, Idaho; as well as steel used for constructing the Hoover Dam. (Similar to what occurred in Pittsburgh, Pennsylvania with the steel industry being a main priority.)

The company eventually became a diesel locomotive rebuilding company in 1972, but eventually began producing other vehicles towards the 1980's, but eventually became bankrupt in 1993. Thus, in 1994 MK Rail Corporation was established as an alternate name of Morrison-Knudsen due to originally becoming bankrupt and discontinuing production of other products; but in 1996, MK Rail (Morrison-Knudsen) eventually became bankrupt and eventually became purchased by Wabtec Engineering the following year, which was incorporated as MotivePower Industries and named the locomotive manufacturing portion of the company Boise Locomotive Company as a subsidiary. Hence, Morrison-Knudsen no longer being an independent company, but rather a trademark or subsidary of Wabtec as of today.
They are also still currently headquartered in Boise, Idaho as of today; which is where the company's headquarters has remained since it was founded in 1912.
Locomotives
Edit
MK500C (later rebuilt to SD50 standards, MK50-3)
TE70-4S
F40PH-2C
F40PHL-2
MK1200G
TE-47-4E
MP36C
MK SD40-3
SD40M-2
The companies various history is similar to ALCO's, while their later history is similar to EMD's.
The "MK" and "MP" were/are designations for most of the locomotives that were and are produced by Morrison-Knudsen and MotivePower are simply named after the companies initials like with ALCO, EMD, and GE. (Such as the GE P42DC.)
References
Edit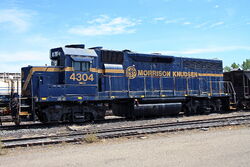 Ad blocker interference detected!
Wikia is a free-to-use site that makes money from advertising. We have a modified experience for viewers using ad blockers

Wikia is not accessible if you've made further modifications. Remove the custom ad blocker rule(s) and the page will load as expected.