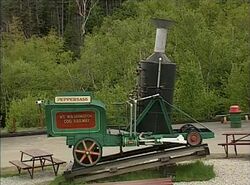 Mount Washington Cog Railway No. 1 "Peppersass"
is a 0-2-2T steam locomotive it was built by Campbell & Whittier in Roxbury, MA, in 1866.
The locomotive was used to do construction of the Mount Washington Cog Railway.
When the railroad was complete it hauls passenger trains on the Mount Washington Cog Railway.
It was retired from active service in 1878.
The locomotive is now on static display at the Marshfield Base Station of the Mount Washington Cog Railway.
This locomotive is an example of a steam locomotive with a vertical boiler that pivoted to allow for changes into grades on the mountain so that the boiler will always remain up right.
This is the first locomotive that operate on the Mount Washington Cog Railway, And it's also the World's first cog locomotive.
The locomotive Last operated in 1929.
It had been moved about the country and placed on display at numerous exhibitions.
It was also exhibited at the New York World's Fair 1939-40.
At the time of the fair, the engine was in the keeping of the B&O.
The locomotive was originally named Hero.
The reason it was named Peppersass it's because of its vertical boiler's resemblance to a pepper sauce bottle.
The owners of the Boston & Maine Railroad decided to restore Peppersass and make a commemorative trip for the railway's 60th anniversary.