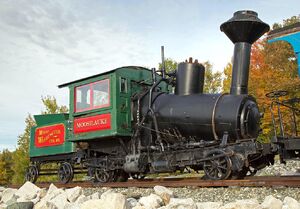 Mount Washington Cog Railway No. 4 (Chocorua) is a 0-2-2-0 Steam Locomotive it was built by the Manchester Locomotive Works in 1883.
The locomotive was used for passenger service on the Mount Washington Cog Railway.
The locomotive was Originally #1 of the Green Mountain Cog Railway, then became Mt. Washington Cog Railway #4 Summit.
The locomotive Renamed Chocorua in 1996 and 1997.
In 2008 it was renumbered and renamed as #8 Moosilauke, coincident with the retirement of the other locomotive with that name and number.
In 2013 the locomotive was donated to the village of Twin Mountain were it is now placed on permanent static display at the intersection of U.S. Route 3 and U.S. Route 302.
Ad blocker interference detected!
Wikia is a free-to-use site that makes money from advertising. We have a modified experience for viewers using ad blockers

Wikia is not accessible if you've made further modifications. Remove the custom ad blocker rule(s) and the page will load as expected.