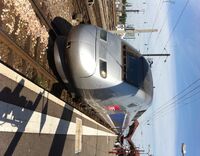 A Multiple Unit (MU) is a trainset with individually powered cars. Usually this means that each carriage in the said train has its own motor(s), and can be controlled by one driver.
Another type is to have power-cars at, for example; each end. These hold all the mechanical equipment, and the driver sits in the car facing "forward."
Electric Multiple Units (EMUs)
Edit
Main article: Electric Multiple Unit
EMUs have traction (electric) motors throughout a trainset. Or have electric power-cars.
Diesel Multiple Units (DMUs)
Edit
Main article: Diesel Multiple Unit
DMUs have diesel motors hung underneath the bodies of each car in a trainset. Or diesel power-cars.
Multiple-unit Cables
Edit
Multiple-unit cables transmit electrical signals between locomotives or cars so that a single operator can control more than one unit.
Multiple Units using Cables
Edit
Older MUs use cables to transmit the control signals, but newer MUs use complicated couplers to transmit the signals. This is important because it allows MUs to be made up faster, and more remotely.
Locomotives using MU Cables
Edit
Most modern locomotives in the United States and Canada are capable of operating in multiple. The exceptions are locomotive types that typically operate alone, like switchers or industrial units. Most recent switchers, however, are equipped with MU Cables in order to provide extra power for today's heavier trains while making them up or classifying them. This is also a result of some switchers straying from the yard to perform branchline/local service, during which they must MU to get the extra power needed to travel modest distances with a good sized train.
Ad blocker interference detected!
Wikia is a free-to-use site that makes money from advertising. We have a modified experience for viewers using ad blockers

Wikia is not accessible if you've made further modifications. Remove the custom ad blocker rule(s) and the page will load as expected.