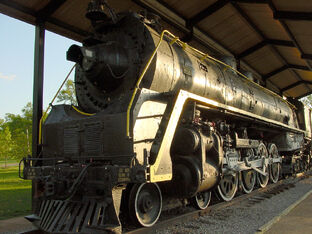 The NC&StL (Nashville, Chattanooga, and St Louis) class J-3 Locomotive #576 is a 4-8-4 locomotive built in August 1942 by the American Locomotive Company (ALCO) in Schenectady, NY; a total of twenty J-3's were built (576 being one of them). By September 2, 1953, all of the NC&StL J3's were withdrawn from service and were scrapped except the 576. #576 was donated in 1953 to the people of Nashville, TN after only 11 years of service. To this day, the locomotive has been on static display in Centennial Park in Nashville.
A restoration to operational status as an excursion locomotive is underway by the Nashville Steam Preservation Society (N.S.P.S).
Ad blocker interference detected!
Wikia is a free-to-use site that makes money from advertising. We have a modified experience for viewers using ad blockers

Wikia is not accessible if you've made further modifications. Remove the custom ad blocker rule(s) and the page will load as expected.