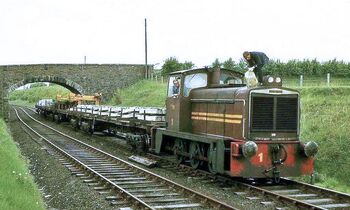 Northern Ireland Rail's 1 class or DH class as they were often called were English Electric "Stephenson" Class locomotives. Built in 1969, these locomotives were primarily used on permanent way trains and for shunting.
Technical Information.
Edit
These locomotives were of a 6 coupled wheel arrangement, they were fitted with Dorman 12QTV engines of 620 hp.
All of these locomotives were sold into preservation in the 1990s however they were then sold to a rebuilding company with 2 being used to shunt cement trains in Sri Lanka and 1 for use in UK industry.
Ad blocker interference detected!
Wikia is a free-to-use site that makes money from advertising. We have a modified experience for viewers using ad blockers

Wikia is not accessible if you've made further modifications. Remove the custom ad blocker rule(s) and the page will load as expected.