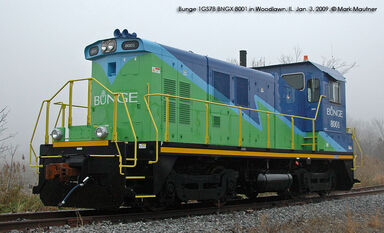 The 1GS7B is the least powerful locomotive in NRE's catalog. The unit utilizes a single QSK19C I6 genset, and has a horsepower output of 700. To date seven have been built, all to industrial customers. This is currently the only single genset locomotive in NRE's genset line.
Who bought what?
Edit
Alliance Grain Terminal One unit #2605, this unit is owned by NRE and leased to AGT.
Bunge has purchased four 1GS7B's. #'s (BNGX) 8001-8004.
Northrop Grumman (NNSX) has purchased one, #507.
NRE rosters one demo, #700.
Viterra roster one unit, #2010.
Wisconsin Public Service (WPSX) rosters one unit, #100, built in 2012.
Ad blocker interference detected!
Wikia is a free-to-use site that makes money from advertising. We have a modified experience for viewers using ad blockers

Wikia is not accessible if you've made further modifications. Remove the custom ad blocker rule(s) and the page will load as expected.