NR Class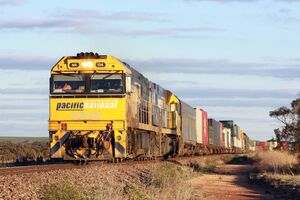 NR106 and NR115 on a double stacked Melbourne-Perth train at Nantawarra
Details

Years built

1996-98

Builder

A Goninan and Co. Broadmeadow, NSW and Bassendean, WA

Number Produced

120

Formations

Unknown

Years in Operation

1996-present day

Fleet Numbers

NR1-120

C-C

Type of Diesel Train

Unknown

Number Operational

119

Number Preserved

0

Number Scrapped

1

Dimensions
(l × w × h)

72 ft 2 in (22 meters)

Prime mover(s)

Unknown

Gauge

4 ft 8 1/2 in (1,435 mm)
V - E - T - D

The NR Class is a Co-Co diesel electric locomotive that started out life working for the National Rail Corporation on the interstate network of Australia. Now are used by Pacific National when the NRC was privatized.
When the National Rail Corporation established operations in 1993, they first utilized a variety of older state railway locomotives from Australian National (South Australia), FreightCorp (NSW), V/Line (Victoria) and Westrail (Western Australia), the youngest about a decade old and topped out at about 3,300 horsepower
The National Rail Corporation ordered 120 NR Class units from both Bassendean, WA and Broadmeadow, NSW, and were tested on the Eastern Railway between Midland and Jumpakine and on the Main Northern between Maitland and Werris Creek
When the class entered service, various classes of state government railways engines were retired from interstate freighters, returned to their owners and replaced by the NR Class, which were much more powerful and modern
For some time the class was banned from running in New South Wales due to excessive noise from dynamic braking, however under further testing the ban was lifted. And they were initially disallowed on the Victorian standard gauge network due to lack of suitable radio equipment, until they were fitted with V/Line radios to allow operation on the Western standard gauge and the North East Line
Great Southern Rail contracted National Rail to haul their services, often utilizing NR's to haul their trains. All were sold to Pacific National in 2002 when the NRC was privatised. They are often seen hauling interstate freight trains and heavy steel trains from Port Kembla and Whyalla to and from Perth, Melbourne, Sydney, Newcastle and Brisbane. And as of 2017 have operated to Esperance, WA, hauling fuel trains to West Kalgoorile and Cook, SA.
Preservation
Edit
Since they are still utilized in regular service, none are preserved. NR33 was scrapped at Ballarat after a collision with a truck in Lismore, Victoria
Specifications
Edit
The NR Class weighs 132 tonnes and has an axle load of 22.5 tonnes with a top speed of 115 km/h (71 mph). Their generator is a GE GMG196, their engine type is a GE 7FDL-16 and their traction motors are GE 5GE793A1, giving the engine power outputs of 4,000 horsepower and a tractive effort of 520 kN (116,000 lbf)