NSWGR 27 Class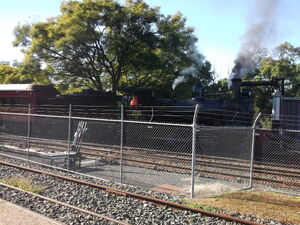 2705 at Trainworks
Details

Years built

Unknown

Builder

Hunslet Engine Company

Number Produced

8

Years in Operation

Unknown

Fleet Numbers

2701-2708

2-6-0

Number Preserved

Unknown

Number Scrapped

Unknown

Dimensions
(l x w x h)

Unknown

Gauge

Unknown
V - E - T - D
The NSWGR 27 class locomotives are a class of steam locomotive in NSW that were built for and operated by the New South Wales Government Railways of Australia.
Only eight locomotives were ordered ant the locomotives were small 'Mogul' type locomotives which were built by the Hunslet Engine Company of Leeds, England, in 1913 for the Public Works Department as railway construction locomotives, working on such lines as Coffs Harbour to Glenreagh, Glenreagh to Dorrigo and Humula to Tumbarumba.
When the New South Wales Government Railways became the railway construction authority in 1917, these locomotives were taken over and received the road numbers 1204-1211 of the (G)1204-class. These locomotives were considered too modern to be utilised on construction work and were soon transferred to more demanding duties. However they were found to be unsuitable for working lines which contained large amounts of curves, having a tendency to shed their valve motion on anything other dead straight track. They were transferred to Narrabri West where they stayed for practically the whole of their remaining lives, working to such places as Moree, Pokataroo, Walgett, Mungindi and Boggabilla.
The mid-1950s saw the withdrawal of two of the class and a further four went in 1963. 2707 was the last to go in 1966, leaving 2705 to be retained by the New South Wales Rail Transport Museum. 2705 currently operates steam train rides at Train Works.