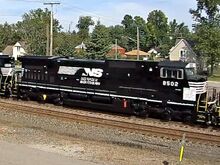 NS has begun to rebuild C40-8s in its Roanoke locomotive shop. The C40-8.5W rebuild initiative is to upgrade electrical wiring and replace the original cabs. One has received the  Crescent cab and the other has received a standard GE widecab. A Tier 0+ 7FDL16 prime mover will be added as well as split cooling to make the units Tier 2 compliant. 84 rebuilds are planned, the units will be electronically comparable to Dash 9's. These units are likely going to receive modified Crescent cabs (like #8501). #8500 has an unmodified Crescent cab and #8505 has the GE cab. #8501 has been released to active service out of Roanoke.
External Links
Edit
Ad blocker interference detected!
Wikia is a free-to-use site that makes money from advertising. We have a modified experience for viewers using ad blockers

Wikia is not accessible if you've made further modifications. Remove the custom ad blocker rule(s) and the page will load as expected.