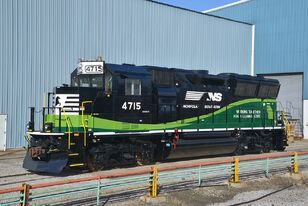 The GP33ECO is NS's most recent rebuild programs. The aim of this program is to turn former Southern High hood GP50's into essentially brand-new locomotives. The locomotives will be totally rebuilt with new 12N-710G3B-T3 prime movers (3000 hp), large radiators to meet EPA Tier 3 standards, Admiral cabs, EM2000 microprocessors, split cooling, and much more. NS intends to create 25 GP33ECO's, with 15 to be based in Chicago and 10 in Atlanta. These rebuilds were partially funded with CMAQ grants from Illinois and Georgia. 13 of the 25 units will be mated to RP-4MC slugs, All of Atlanta's units will be mother-slug sets while 3 of Chicago's will be slug sets. NS 4700-4703 for Illinois have been completed, and 4715-4723 for Georgia have been completed.
Link to CMAQ page: http://www.fhwa.dot.gov/environment/air_quality/cmaq/
Ad blocker interference detected!
Wikia is a free-to-use site that makes money from advertising. We have a modified experience for viewers using ad blockers

Wikia is not accessible if you've made further modifications. Remove the custom ad blocker rule(s) and the page will load as expected.