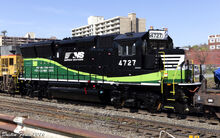 The GP59E is yet another rebuild in NS's ever growing list. This project entails rebuilding NS's 36 unit GP59 fleet, 33 units ordered by NS plus the three EMD Demos. As of September 2013 four of the 33 planned rebuilds have been outshoped from Juniata. The rebuilt units receive EM2000 microprocessors, AESS, and new electrical. The original 12-710G3A prime mover is upgraded to 12N-710G3B-EC standards (the "12N" denotes a new firing order). The units receive admiral cabs and NS split cooling system. The units are set up to work in partnership with MP-M4C road slugs.
#4650-4661 have been rebuilt. This project has closed. All other GP59's will be used as cores for the new GP59ECO program. The GP59ECO's are like GP33ECO's minus the special paint.
References
Edit
Ad blocker interference detected!
Wikia is a free-to-use site that makes money from advertising. We have a modified experience for viewers using ad blockers

Wikia is not accessible if you've made further modifications. Remove the custom ad blocker rule(s) and the page will load as expected.