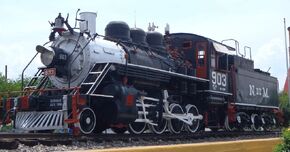 Nacionale de Mexico No. 903
is a class GR-30 class 2-8-0 "Consolidation" steam locomotive that was built by the Baldwin Locomotive Works in 1910 as No. 297 for The Ferrocarrils Nacionales de Mexico - or Mexican National Railways.
The engine was used for passenger and freight service on the Nacionale de Mexico railway.
It was also originally built for narrow gauge tracks and was used by the Veracruz Terminal Company and the Teziutlan Copper Company before being bought by NdeM in 1945.
It was built as a 3-ft gauge for the Vera Cruz Terminal Co. as their No. 15 and later sold to the Teziutlan Copper Co. as their No. 4.
The locomotive was later renumbered No. 903 in 1950 Then 13 years later in 1963 the locomotive was retired from service.
It is currently now currently on display in Acámbaro in the Mexican state of Guanajuato.
No. 903 is the basis for Carlos from the Thomas and Friends special, The Great Race.
Re-gauged to standard gauge in 1950 and taken out of service in 1963.
It has been plinthed at Acambaro since 1963.