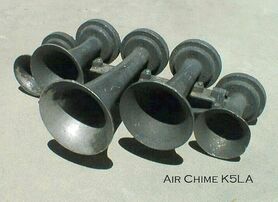 The Nathan Airchime K5LA is a North American train or airhorn commonly used on diesel locomotives.
The horn was first manufactured in the late-1970's and was first purchased and used by the US freight railroad Chessie System (now CSX). Later on, the US passenger railroad (and only major Class 1 or regional operating U.S passenger railroad) Amtrak began using the K5LA to replace the Leslie SL-4T, which often fouled easily and created noise pollution for people who lived in nearby homes. The horn consists of having five "bells" which are the actual horns which are connected and pieced together on a manifold to create a tune or sound.
The K5LA is most commonly used today by most American and Canadian railroads. These railroads include: CSX, Norfolk Southern, Amtrak, and various Class 2 and Class 3 railroads. (Commuter trains, cab cars, shortlines, etc.)
Union Pacific also used several K5LA horns on some of their early shipments of SD70M's in 2001.
There are also many variants and versions of the K5LA to help silence the horn because of how loud it can tend to be. (Such as the K5LAR24, which is a hybrid version or variation of the horn.)
The D&RGW (Rio Grande) had several K5LA horns installed on their fleets of EMD GP60 and SD50 units.
The WP (Western Pacific) had several K5LA horns installed on their later GP40 units as well.
Most earlier CSX GEVO (Evolution Series) units use K5LA horns in-place of their original 1st-generation K5HL horns (as a result of swapping their Dash 8 units with opposite horns; hence their Dash 8 units having K5HL horns in-place of their original K5LA and K5H horns).
References
Edit
http://www.youtube.com/watch?v=jD9f_8iPAZE&feature=channel_video_title (sound example)