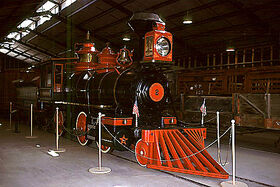 Nevada Central RR No. 2
is a 2-6-0 "Mogul" type steam locomotive built by the Baldwin Locomotive Works in 1881 for the Nevada Central Railroad.
The locomotive was used for passenger and freight service on the Nevada Central Railroad to operate a short line that's connecting with Battle Mountain and Austin.
In 1938 it was retired from service and it was purchased by Disney animator Ward Kimball and his wife Betty for their backyard railroad called the "Grizzly Flats Railroad".
The beautifully restored locomotive features Kimball's own artwork on the cab and headlight and it was renamed "Emma Nevada" after a famous opera star of the late 1800s and was finally fired up in 1942.
It last steamed regularly in 1951, when it was side-lined with mechanical issues, but ran again once in 1985 in a race with Tom Scherman's "Iron Man".
It is now on static display at the Orange Empire Railway Museum.
Nevada Central #2 was the first locomotive to join the "Grizzly Flats Railroad" in 1938.
With a friend's prompting, he then bought the locomotive #2, once named "Sidney Dillon", which had operated on the Nevada Central since 1881.
This is the only remaining steam locomotive for the Nevada Central Railroad.
With some Complaints of Kimball's neighbors of the coal smoke forced Kimball to sideline the locomotive in 1951 and operated his railroad with the "Chole".