The
Nevada Northern No. 40
is a
4-6-0
ten-wheeler type,
steam locomotive
which was built by the Baldwin Locomotive Works of Philadelphia, Pennsylvania in July 1910 for the Nevada Northern Railroad Company.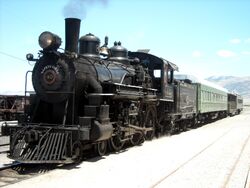 It originally served as a passenger locomotive during the original years of when the Nevada Northern was a US Class 2 railroad as the main locomotive for the railroad's crack passenger train, the "Steptoe Valley Flyer". Before the Nevada Northern retired the locomotive in 1941, the locomotive was given a complete overhaul in secret by the shop crews in the Ely roundhouse. The locomotive was then put onto standby service. Afterwards, it was used in 1956 for the railroad's 50th Anniversary excursion before being tucked back into retirement in the very back of the Ely roundhouse and was preserved along with several passenger cars that were used with the locomotive. This was the last time the locomotive operated in Revenue Service. When the Nevada Northern shut down in the 1980's, the City of Ely was given the historic locomotive and train, along with the entire East Ely Yard, which was unaltered since being built in 1906, and any and all equipment that was inside the donated property.
It currently is used as a mixed traffic unit with the other Nevada Northern steam and diesel locomotives. But, its most famous role is the main locomotive for the "Ghost Train of Old Ely" excursion train.
It is now restored and operational on the Nevada Northern Railway.
This engine was also featured in several films such as: Running a Steam Locomotive Vol. 2 and Grandpa Worked On The Railroad with the Yreka Western No. 19, Once Upon A Texas Train and Thunder on the Rails.
Both the Nevada Northern No. 40 and the Yreka Western No. 19 both originally shared the same number during several film scenes in the films that they starred in together.
On July 14, 2006 No. 40 was doubleheading a passenger train with Nevada Northern No. 93.