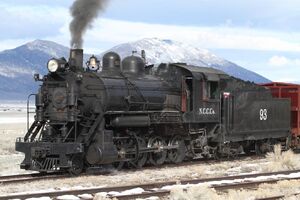 Nevada Northern No. 93 is a type of 2-8-0, steam locomotive which was built by Alco in 1909 for the American Smelters Securities Co to haul ore trains on the Nevada Northern Railway.
The locomotive was sold to Nevada Consolidated Copper in May 1920 when the company took over operation of the ore line.
In 1952, three of the original four locomotives supplied by Alco in 1909 were scrapped, but #93 was kept as back up motive power.
In 1990, after twenty-nine years on display at the White Pine Public Museum, #93 was traded by the White Pine Historical Railroad Foundation, along with all of the museum's railroad equipment, to the Northern Nevada Railway Museum in exchange for the Cherry Creek Depot.
The locomotive is now operational by the Nevada Northern Railway.
In 1961, Kennecott Copper donated the locomotive to the White Pine Public Museum, where it went on open air display.
In 1993, the locomotive began its second career hauling excursion trains.
Ad blocker interference detected!
Wikia is a free-to-use site that makes money from advertising. We have a modified experience for viewers using ad blockers

Wikia is not accessible if you've made further modifications. Remove the custom ad blocker rule(s) and the page will load as expected.