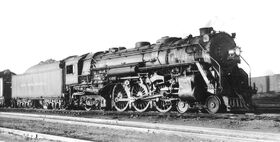 The New York Central Hudsons were a series of 4-6-4 "Hudson" type steam locomotives built by the American Locomotive Company and the Lima Locomotive Works from 1927 to 1938 for the New York Central Railroad.
These engines are used for high-speed passenger train work, the Hudson locomotives were famously known for hauling the New York Central's crack passenger trains, such as the 20th Century Limited and the Empire State Express.
The streamlining was later replaced to match the last ten J-3a locomotives that had been built with streamlining designed by "Henry Dreyfuss".
All the hudsons were retired by the late 1950s and With the onset of diesel locomotives in the mid 20th Century.
There are no existing Hudsons today.
These engines are Named after a river the "Hudson River."
There are 3 different Hudson class J-1, J-2 and J-3.
The Dreyfuss Hudson were Hudsons that featured the nose of the smoke box that looked like a Rocketship with the Fin on it.
When the Hudsons operate for the Empire State Express they were painted black and silver and they looked like the Dreyfuss Hudson but without the fin.
There are some Dreyfuss Hudsons that can operate but without the fin.
Locomotive #5344 had streamlining applied and named "Commodore Vanderbilt".
The Commodore Vanderbilt are the first streamlined steamers to headed the New York Central.
A J-1d Hudson was originally numbered 6615 it was later renumbered No. 5390.
The Hudson came into being because the existing 4-6-2 Pacific power was not able to keep up with the demands of longer, heavier trains and higher speeds.
Locomotive No. 5200 is the Very first Hudson from the New York Central and it ruled the rails in 1927.
There are some Hudsons that can operate while wearing Smoke Deflectors
Ad blocker interference detected!
Wikia is a free-to-use site that makes money from advertising. We have a modified experience for viewers using ad blockers

Wikia is not accessible if you've made further modifications. Remove the custom ad blocker rule(s) and the page will load as expected.