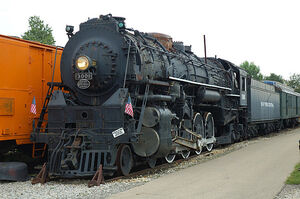 New York Central No. 3001
is a class L-3a 4-8-2 steam locomotive that was built by Alco in 1940 for the New York Central railroad.
This locomotive was designed to haul passenger trains, including the 20th Century Limited for the New York Central. No. 3001 was often used to haul freight trains, due to many NYC Hudsons being occupied pulling passenger trains; in later years, diesel-electric locomotives hauled the passenger trains, so steam was on its last legs - 3001 included.
No. 3001 was finally retired from service on February 14, 1957. Later the same year, as one might expect the locomotive to be scrapped, it was instead donated to the Texas State Fairgrounds, owned by the City of Dallas, to replace the heavily-vandalised locomotive Texas and Pacific No. 638. When the fair ground closed, it was donated to the Museum of the American Railroad in nearby Frisco, TX. Later still, it was traded for a GG1, thus the Mohawk made its move back to its old stamping ground. In 1984 No. 3001 was seen sitting in the Blue Island Train Yard, waiting to be donated... to the National New York Central Railroad Museum in Elkhart, Indiana. It sits there today, on static display. Hopefully, given its good condition, it may return to steam and possibly pull main line rail tours for the first time.
During the late 1940's/early 1950's, many L3's (3001 being one of them) were fitted with smoke lifters, which until then, were never fitted when built. Between 1957 and 2012, it had none, but they have been re-instated during a recent cosmetic restoration.