New York Central No. 5344
is a class J-1e 4-6-4 steam locomotive, built by Alco in 1927 for the New York Central railroad.
This locomotive was designed to haul passenger trains, including the 20th Century Limited.
No. 5344 was built with the inverted bathtub shrouding designed by Henry Dreyfuss. It was also fitted with slightly smaller cylinders (to fit within the streamlined casing), but at a higher boiler pressure. The streamlining was removed shortly afterwards. It was finally retired from service on February 14, 1957 and scrapped.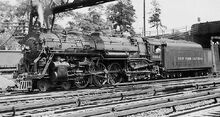 No. 5344 was named Commodore Vanderbilt after a pioneer of the NYC.
There is also a Lionel model of the No. 5344 known as the 700e. Both the original and the Legacy Visions Line versions were sold.
See also
Edit