New York Central (NYC) No. 999 is a type of 4-4-0 "American Standard"
steam locomotive
.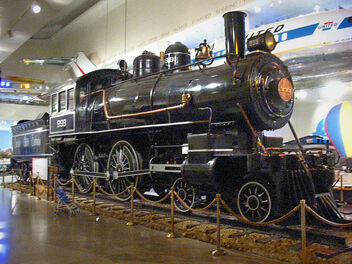 It was built in 1893 in West Albany, New York, and was one of the first American steam locomotives (or locomotives in general) to travel past the speed of over 100 mph during its test run (aside from the City of Truro in the UK, which often has much debate over which locomotive traveled the fastest first). It was capable of reaching a top speed of 112.5mph.
In 1905 it leads the Empire State Express passenger train through Palatine, New York.
After touring the nation and making appearances at numerous expositions including the Chicago Railroad Fair, the unit was retired from service in May, 1952 at which time it was relegated to yard switching service in western New York shuttling express service milk cars.
Today this locomotive is preserved on static display at the Museum of Science and Industry in Chicago, Illinois.
NYC No. 999 originally served as a high-speed mainline passenger steam locomotive, to whom it was originally experimental, and was intended to develop a type of high-speed 4-4-0 tender steam locomotives, yet the idea was replaced with a larger type of steam locomotive with similar tractive effort.
NYC No. 999 served as a switcher shortly after the Great Depression until being retired in 1952. This was mainly because of it no longer being needed or used for mainline passenger trains.
As of 1984 the locomotive used to be an Outdoor Exhibit it is now put inside the museum in 1993 as an indoor exhibit.
In 1962, the locomotive was donated to the Museum of Science and Industry in Chicago, Illinois.
In the 1920's it was eventually given a much thicker boiler and tender, but was eventually restored back into its original condition.
After the fair the engine continued to pull the Express between Buffalo and Syracuse.
This locomotive was given a nickname - the "Queen of Speed,"
In the 1920s it was given a new boiler and tender, operating local and branch line trains until 1924, when it was restored for exhibition at the Baltimore and Ohio Railroad's "Fair of the Iron Horse" the following year.
It was renumbered #1086 in 1913, and #1021 in 1920.
Although 999 was fitted with a speed recorder the 100 mile an hour claims were based on milepost timings by newspaper reporters.
Ad blocker interference detected!
Wikia is a free-to-use site that makes money from advertising. We have a modified experience for viewers using ad blockers

Wikia is not accessible if you've made further modifications. Remove the custom ad blocker rule(s) and the page will load as expected.