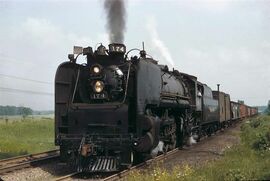 Nickel Plate Road No. 174 is a class L-1b 4-6-4 "Hudson" Type steam locomotive. It was built by Lima in 1929 for the Nickel Plate Road.
It was used for passenger and freight service on the Nickel Plate Road.
It was retired in the 1950s upon dieselisation of the Nickel Plate Road and it was sold for scrap.
A guy name Robert Leffingwell captured No. 174 on a transparency at Englewood Station, Chicago, in the mid-1950s with a passenger train — probably not one of the Nickel Plate's scheduled trains but a railfan special, judging by the lack of head-end equipment.
Ad blocker interference detected!
Wikia is a free-to-use site that makes money from advertising. We have a modified experience for viewers using ad blockers

Wikia is not accessible if you've made further modifications. Remove the custom ad blocker rule(s) and the page will load as expected.