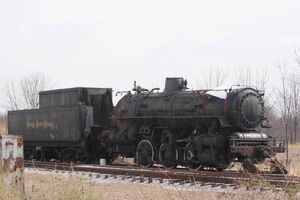 Nickel Plate Road No. 384
is a type 0-6-0 "Switcher" steam locomotive, classed B-5. It was originally built in 1944 by Alco for the Wheeling & Lake Erie Railroad Co. as #3984.
Large railroads such as the Nickel Plate used switchers in their many facilities on the railroad, and number 3984/384 is no exception. It spent most of its life as a switcher for the Wheeling & Lake Erie Railroad Co. In 1949 it was sold to the Nickel Plate Road after the W&LE was absorbed by the road and renumbered 384.
Then 384 was donated at the end of steam to the city of Loraine, Ohio in 1960, and she retired and sat there for many years prior to being sold to the Lake Shore Railway Association for restoration to operation.
Today the engine is at the Lorain & West Virginia Railway, where the NKP 384 is being restored to working order. The restoration is ongoing without a building around the engine. It's been a slow process; the engine was in a sorry state after years sitting outside, exposed to vandals and weather.
The B5's (the class to which 384 was assigned) were based on, and practically copies of, a very similar design - the USRA 0-6-0 light switch engine.