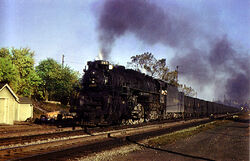 Nickel Plate Road No. 765
is a 2-8-4 S-2-class Berkshire type steam locomotive.
Nickel Plate Road No. 765 was built in 1944 by the Lima Locomotive Works in Lima, Ohio. She ran until 1958, when she was retired in Fort Wayne, IN. In 1963, the engine was put on display in Lawton Park and was numbered 767. The city had asked for the real Nickel Plate Road No. 767 but it was in bad shape after it had an accident; it was scrapped. By 1972, the 765 was in terrible condition due to years of exposure from the weather. That same year, The Fort Wayne Railroad Historical Society was formed to find a new display site for the engine and maybe restore it to operating condition. Working outdoors without cranes and other shop equipment or protection from the weather, the restoration went from October 25th, 1975 to September 1st, 1979, when the engine first steamed up. The engine ran from 1979 to 1980 due to some superheater unit problems. After getting some new parts from sister engine 755, The 765 ran again from 1982 to 1993. After another 13 years out of service, the engine was steamed up again in 2006 and has been running ever since.
In 1993, Nickel Plate Road No. 765 was briefly re-lettered and renumbered to Chesapeake & Ohio 2765.
In 2016, Nickel Plate Road No. 765 ran a couple of excursions while it was briefly renumbered as the Nickel Plate Road No. 767.
In 2014, Nickel Plate Road No. 765 was relettered and renumbed as "Lionel Lines" No. 726.