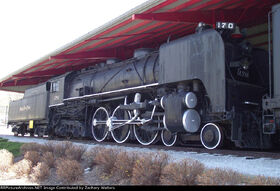 Nickel Plate Road (NKP) No. 170
is a Class L1a a type of 4-6-4 "Hudson" steam locomotive. It was built in 1927 by Alco for the Nickel Plate Road.
This special Hudson was used to haul heavy passenger trains on the Nickel Plate Road railroad, as well as occasional freight service.
The Nickel Plate L1's were amongst the first Hudson types to be built. Outshopped by Alco in February 1927, about a month before class leader NKP #170, the locomotive design was developed and perfected by the NYC, which eventually rostered two hundred and seventy-five of the type.
No. 170 remained in service until 1947 when passenger trains on the Nickel Plate were taken over by diesels, but the locomotive continued in freight service for some years. It retired in 1957, but was donated by the road to the St Louis Museum of Transportation, where it remains on public display.
No. 170 is the only remaining NKP Hudson, and the only surviving example of a Hudson with Smoke Deflectors.