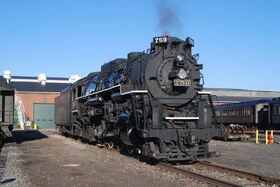 Nickel Plate Road No. 759
is a class S-2 2-8-4 "Berkshire" type steam locomotive it was built for the Nickel Plate by Lima in 1944.
The locomotive worked mainly hauling freight trains on the Nickel Plate Road.
In May 1958, #759 was the last steam locomotive the NKP overhauled, and it was retired soon after in 1960.
Briefly fired up at Steamtown in 1977, work was to begin on reflueing, but sponsorship fell through and the locomotive has stood cold ever since.
Today the locomotive is still at Steamtown but it is now a static display.
No. 759 is one of six preserved NKP S-2s.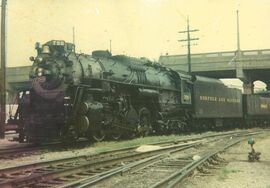 The tender was relettered "Norfolk & Western" on April 30, 1971 when the N&W announced the end of passenger service on their railroad and The High Iron Co and the Norfolk and Western teamed up to pull the very last Pocahontas before Amtrak took over the next day and 759 was chosen to pull it.
F. Nelson Blount bought #759 in 1962 for his collection in Bellows Falls, VT. Ross Rowland, Jr., then carried out repairs and on 17th August 1968, it made several trial runs.
The locomotive was restored to operating condition in 1968 by New York commodity broker Ross Rowland for use in hauling his Golden Spike Centennial Limited, a special commemorative train that celebrated the 100th anniversary of the completion of the Transcontinental Railroad in 1969.
Two weeks later, it began an excursion career that lasted until 1973.