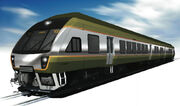 The
Nippon Sharyo FRA DMU
is, as its name implies, an FRA (US Federal Railroad Administration) compliant Diesel Multiple Unit (DMU) built for both the Sonoma-Marin Area Rail Transit (SMART) in California and Metrolinx (UP Express) in Ontario, Canada.
According to Nippon Sharyo these DMUs are convertible to electric traction.
Design/Specifications:
Edit
Length: 85ft/car (mated into 2 or 3 units per trainset)
Top speed: 90mph (Restricted to 79mph for SMART)
Powertrain: Cummins QSK19-R, Tier 4 compliant, 6 speed automatic transmission
Power output: 760hp
Interior power: Powered by mix of engine power and regenerative braking.
Number built: 32 powered cars (18 for Metrolinx, 14 for SMART)
Ad blocker interference detected!
Wikia is a free-to-use site that makes money from advertising. We have a modified experience for viewers using ad blockers

Wikia is not accessible if you've made further modifications. Remove the custom ad blocker rule(s) and the page will load as expected.