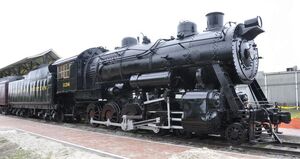 Norfolk & Western No. 1134
is a 4-8-0 steam locomotive built by the Baldwin Locomotive Works in 1910 for the Norfolk and Western Railway.
The engine was designed to haul freight trains on the Norfolk and Western Railway until it was retired in the 1950's.
The engine hasn't run since it was sent to the scrapper back in the 1950's and it sat in the Virginia Scrap Iron & Metal Company's yard until it was rescued some years later.
The locomotive is now on static display at the Railroad Museum of Virginia in Portsmouth.