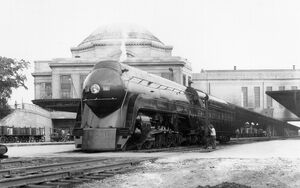 Norfolk & Western No. 123
was a K-2 Class 4-8-2 steam locomotive built by the Brooks Locomotive Works in 1919 for the Norfolk & Western Railway.
The locomotive was used for passenger service on the Norfolk and Western Railway.

It was retired in 1957 and it was sold for scrap.
No. 127 is an example of a streamlined locomotive in the style of the N&W's J-class 4-8-4's.