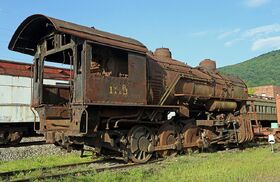 Norfolk and Western No. 1118 is a 4-8-0 steam locomotive. It was built in June 1910 by the Baldwin Locomotive Works in Philadelphia, Pennsylvania for the Norfolk & Western Railroad where it hauled freight and coal.
In 1959, it was sold to the Virginia Scrap Iron & Metal Co., Inc, but was rescued from that yard many years later.
It is now owned by the Roanoke Chapter of the NRHS, but it has been moved to their maintenance facility at the 9th St. industrial park for cosmetic restoration.
Ad blocker interference detected!
Wikia is a free-to-use site that makes money from advertising. We have a modified experience for viewers using ad blockers

Wikia is not accessible if you've made further modifications. Remove the custom ad blocker rule(s) and the page will load as expected.