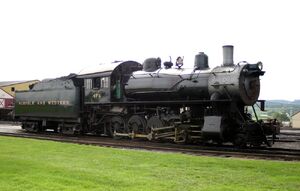 Norfolk and Western No. 475
 is a
4-8-0
steam locomotive
. It was built in 1906 by the Baldwin Locomotive Works in Philadelphia, Pennsylvania for the Norfolk & Western Railroad where it hauled freight and coal.It served the N&W until 1960. It was purchased by The Strasburg Railroad in 1991 and it was restored to operation in 1993. It is also one of the last operating 4-8-0s in the United States. It played the Rainbow Sun in the 2000 film, Thomas and the Magic Railroad. It was filmed at the Harrisburg Transportation Center and on the Strasburg Railroad. It was included in a stunt in the film, that was later excluded prior to the film's premiere.
Ad blocker interference detected!
Wikia is a free-to-use site that makes money from advertising. We have a modified experience for viewers using ad blockers

Wikia is not accessible if you've made further modifications. Remove the custom ad blocker rule(s) and the page will load as expected.