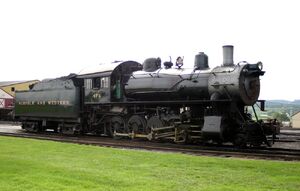 Norfolk and Western No. 475
Details

Builder

Baldwin Locomotive Works

Date Built

June 1906

Serial Number

28343

Classification

M

Wheel Arrangement

4-8-0 Mastodon or "Mollie" by the N&W Crews

Gauge

Standard (4 foot 8 1/2 inches)

Driving Wheel Diameter

56 inches

Cylinder Size

21" x 30"

Locomotive Weight

103.1 tons (186.85 tons with tender)

Valve Gear

Baker

Tractive Effort

40,163 lbs.

Boiler Pressure

200 psi

Retired

1956 (revenue)

Restored

1993
V - E - T - D

Norfolk and Western No. 475 is a 4-8-0 steam locomotive. It was built in June 1906 by the Baldwin Locomotive Works in Philadelphia, Pennsylvania for the Norfolk & Western Railroad where it hauled freight and coal. It served the N&W until it's retirement in 1956, completing 50 years of loyal service. Between 1957 and 1958, the locomotive was dolled up as a 19th century locomotive and hauled the "Salem Shifter" local passenger train. By September 1960, it was placed on display in Roanoke, Virginia. In the early 1960's, 475 was sold to the Virginia Scrap Iron and Metal Co. of Roanoke, VA, but was then purchased by W. Armagost of Holsopple, PA in 1963. In 1980 it was sold to H.S. Kuyper, and then conveyed to the Pella Historical Society, being stored at the Illinois Railway Museum in Union, Illinois. In 1982 it was purchased by C. Rosenberg and others, being donated to the BSV in 1985 and moved to Boone for display in 1986.
It was purchased by The Strasburg Railroad in 1991 and it was restored to operation in 1993. It is also one of the last operating 4-8-0s in the United States. It played the Rainbow Sun in the 2000 film, Thomas and the Magic Railroad. It was filmed at the Harrisburg Transportation Center and on the Strasburg Railroad. It was included in a stunt in the film, that was later excluded prior to the film's premiere.
#475's surviving cousin #433 is on display at Aldingdon, Virginia.