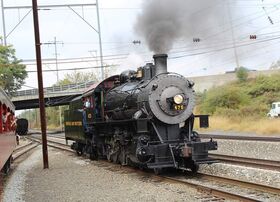 Norfolk and Western #600 is a 4-8-4 J class steam locomotive It was built in 1941 by the Roanoke Shops in Roanoke, Virginia for the Norfolk and Western railroad.
It spent most of it's life hauling passenger trains and No. 600 also pulled the network's prominent passenger trains.
In the Late 1950s No. 600 was Scrapped After the Norfolk & Western finally turned to diesels when the J class was retired.
Ad blocker interference detected!
Wikia is a free-to-use site that makes money from advertising. We have a modified experience for viewers using ad blockers

Wikia is not accessible if you've made further modifications. Remove the custom ad blocker rule(s) and the page will load as expected.