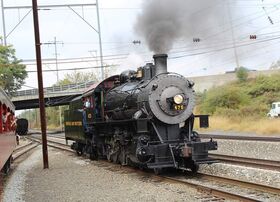 Norfolk and Western #600
is a 4-8-4 J class steam locomotive built in 1941 by the Roanoke Shops in Roanoke, Virginia for the Norfolk and Western Railroad.
It spent most of its life hauling passenger trains and No. 600 also pulled the network's prominent passenger trains.
In the late 1950's, No. 600 was scrapped after the Norfolk & Western finally turned to diesels when the J class was retired.