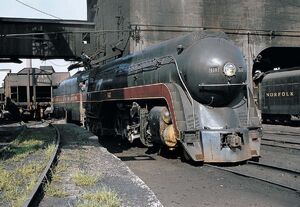 Norfolk and Western #610 is a 4-8-4 J class steam locomotive.
610 was built in 1944 by the Roanoke Shops in Roanoke, Virginia for the Norfolk and Western railroad.
No. 610 pulled the network's prominent passenger trains, such as The Powhatan Arrow from Cincinnati to Norfolk (Cincinnati to Portsmouth for No. 611), The Pocahontas, and The Cavalier, as well as ferrying Southern Railway's Tennessean, Birmingham Special and The Pelican between Lynchburg, Virginia and Bristol, Virginia.
No. 610 was loaned to the PRR for testing and during tests was able to hold a steady speed of 110 miles per hour.
In 1959 it was retired from service and it was sold for scrap.
In 1943 It was delivered without shrouding and lightweight side rods, due to the limitations on the use of certain materials during the war; they were classified J1.
While on loan, number 610 hauled a 15-car 1,050-short-ton (950 t; 940-long-ton) train at speeds in excess of 110 mph (180 km/h) over Pennsylvania Railroad's "racetrack", the Fort Wayne Division (a section of flat, straight track).
In 1958 and 1959, it ran several Farewell To Steam excursions.
Ad blocker interference detected!
Wikia is a free-to-use site that makes money from advertising. We have a modified experience for viewers using ad blockers

Wikia is not accessible if you've made further modifications. Remove the custom ad blocker rule(s) and the page will load as expected.