Norfolk and Western #611 is a 4-8-4 J class steam locomotive. She has 70 inch diameter driving wheels, is capable of 80,000 pounds of tractive effort and is the only surviving example of 14 Class J's built by N&W.
611 was built in May 1950 by the Roanoke Shops in Roanoke, Virginia and was retired in 1959 (as one of the last steam locomotives to be retired by any US or North American Class 1 railroad). , 611 has been in two derailments total. During her service with N&W, an engineer ran her at excessive speeds while pulling the Pochahontas around a bend in the Tug River outside Cedar, West Virginia. 611 suffered only minor damage was repaired shortly and returned to service. It was restored and returned to service in 1982, operating until 1994 on its final run day of December 7, 1994. On May 18, 1986, one of the passenger cars being hauled by 611 on an employee special got caught in a switch and derailed outside Great Dismal Swamp, Virginia. 12 cars derailed, and blocked the line for a good amount of time. 611 again only took minor damage and was soon repaired. The locomotive was finally retired from excursion service one month after a major derailment (not involving 611) in a yard which heavily damaged several excursion cars. In October, 1994, the steam program was canceled. 611's last run was December 7, 1994, on the anniversary of Pearl Harbor Day. It has been on display at the Museum of Transportation since from 1995 to 2014. 611 return to service on May 23, 2015, and made it's first test run and movement under her own power for the first time in 21 years.
"Fire Up 611!" Program
Edit
The Virginia Museum of Transportation, located in Roanoke, Virginia, has recently begun a study into the feasibility of restoring the 611 to operational status for participation in Norfolk Southern's 21st Century Steam Program. Several inspections by FRA officials have yeilded positive results,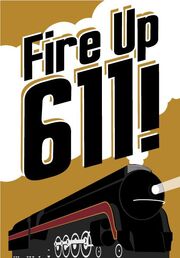 even concluding in an estimate of what it is likely to cost to restore the Class J: 3.5 million dollars for its return to operation, and 1.5 million for the construction of maintenance facilities and general upkeep of the locomotive during excursions. It has been stated by VMT that if their goal of 3.5 million dollars can be reached by October 2013,  then 611 will be ready for excursion service within the next year and likely even begin operation in 2014. As of late July, the amount yet raised is undisclosed, though VMT claims donations have arrived from at least 5 different countries; their positivity and several public press conferences would suggest a very succesful response from the railfan community. VMT has pulled 611 out of her display stable multiple times now, including during a photo shoot alongside Class A 2-6-6-4 1218, a former excursion partner. Highest priority in the rebuilding process is believed to be the replacement or major repair of the locomotive's driving wheels, something planned to be done before her retirement from excursion service during the 90's. It is also planned to re-replace her single-beam headlight with a dual-beam light, as was done during the last excursion period. On April 1st, 2014, it was announced that, despite only raising $2.3 million, the locomotive would be moved to North Carolina on May 24th, 2014. The amount of money raised is enough to restore the locomotive, a project that is slated to take nine months to complete. The money left to raise is for the maintenance and housing facilities. Restoration of 611 began on June 2, and has been well documented pictorially and proceeded at a fast pace, ending on May 9, 2015.