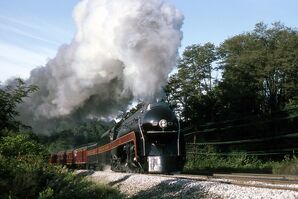 Norfolk and Western #611
is a
4-8-4
J class
steam locomotive
. She has 70 inch diameter driving wheels, is capable of 80,000 pounds of tractive effort and is the only surviving example of 14 Class J's built by N&W.
611 was built in May 1950 by the Roanoke Shops in Roanoke, Virginia and was retired in 1959 (as one of the last steam locomotives to be retired by any US or North American Class 1 railroad). 611 has been in two derailments total. During her service with the N&W, an engineer ran her at excessive speeds while pulling the Pochahontas around a bend in the Tug River outside Cedar, West Virginia. 611 suffered only minor damage was repaired shortly and returned to service. It was restored and returned to service in 1982, operating until 1994 on its final run day of December 7, 1994. On May 18, 1986, one of the passenger cars being hauled by 611 on an employee special got caught in a switch and derailed outside Great Dismal Swamp, Virginia. 12 cars derailed, and blocked the line for a good amount of time. 611 again only took minor damage and was soon repaired. The locomotive was finally retired from excursion service one month after a major derailment (not involving 611) in a yard which heavily damaged several excursion cars. In October, 1994, the steam program was canceled. 611's last run was December 7, 1994, on the 53rd anniversary of the Pearl Harbor explosions. It was on display at the Museum of Transportation from 1995 to 2014. 611 returned to service on May 23, 2015 and made it's first test run and movement under her own power for the first time in 21 years.
Ad blocker interference detected!
Wikia is a free-to-use site that makes money from advertising. We have a modified experience for viewers using ad blockers

Wikia is not accessible if you've made further modifications. Remove the custom ad blocker rule(s) and the page will load as expected.