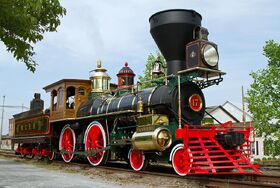 Northern Central Railroad No. 17
, named
The York
, is a custom built 4-4-0 "American" Type Steam Locomotive built in 2013 by the Kloke Locomotive Works of Elgin, Illinois for the Northern Central Railroad.
The locomotive is a reproduction of an American type (4-4-0) locomotive, a type common on North American railroads in the mid to late 19th Century.
Sports a bonnet smoke stack complete with Spark arrestor commonly used on wood burning engines of the period.
The locomotive is seen today and it's operational on the Steam into History railroad in New Freedom, PA.
No. 17 is liveried in North Central Railway colours.
No. 17 is a replica of a Civil War-era American type locomotive.
In 2015 York #17 leads a recreation of the Lincoln Funeral Train.
Its design was based on O'Connor Engineering blueprints for the replica Union Pacific No. 119 and Central Pacific 4-4-0 Jupiter locomotives (both engines currently reside at the Golden Spike National Historic Site in Utah).
On November, 2013 it was being visited by The Leviathan for a recreation of the famous Great Locomotive Chase from New Freedom to Granary Road, where a pair of photo run-by's were held, and the two engines ran to Granary Road once again, this time to participate in a reenactment of the Driving of the Golden Spike, and completion of the transcontinental Railroad back in May 1869.
This Custom built locomotive is for SIH based on blueprints for Golden Spike replica engines.
The York, however, burns oil instead of wood for both economic and practical reasons.