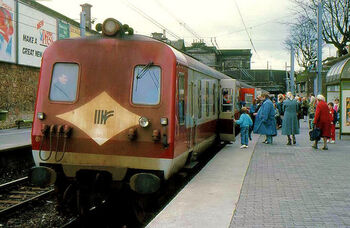 Northern Ireland Railway's(NIR) 80 class DEMUs were the best loved train on NIR's network for nearly 40 years, the reason they were loved was that there was little noise in the carriages as motive power consisted of two power cars. Another reason for their popularity was the fact the heating systems actually worked in these units and the roofs didn't leak which put them leagues ahead of the 450 class.
Technical Data
Edit
The power cars were fitted with an English Electric 4SRKT of 500 h.p with English Electric running gear and a top speed of 70 m.p.h.
The NIR 80 class units had a long and interesting career with one set being rented by Irish Rail for use on the Bray-Greystones shuttle with one 8 car set venturing as far south as Cork for a Michael Jackson concert. The trains were finally withdrawn in 2010 with one unit remaining in use for Sandite spreading.
Ad blocker interference detected!
Wikia is a free-to-use site that makes money from advertising. We have a modified experience for viewers using ad blockers

Wikia is not accessible if you've made further modifications. Remove the custom ad blocker rule(s) and the page will load as expected.