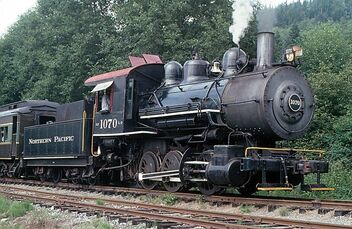 The Northern Pacific No. 1070 is a Class L-9 
0-6-0
,
steam locomotive
.
It was built in 1907 by Alco for The Northern Pacific Railway and it was sent to the Idaho Division for service at Spokane, WA.
Around March, 1958, the engine was leased by the NP to The Simpson Lumber Co. in Mc Cleary, WA and then was sold to them around May, 1958.
It was moved to The Puget Sound Railway Historical Association (P.S.R.H.A) in Snoqualmie, WA and stored there until 1972 when they bought a ex-NP branch line from the Burlington Northern that they renamed to The Lake Whatcom Railway.
The locomotive is now restore at the Lake Whatcom Railway to haul passenger trains and freight trains.
Before at The Lake Whatcom Railway this locomotive push a bunk car and a log loader to carry some logs deeper into the tall timber of northwest washingtion state in the 1950s.
Today the NP #1070 is still at Lake Whatcom Railway but has been out of service for sometime due to extensive boiler work.
this is the only steam locomotive that operate at the Lake Whatcom Railway.
The locomotive was pulling lumber cars at the Simpson Lumber Company in 1959.
In April, 1988 Burlington Northern Railway had a track washout south of Wickersham, WA due to flooding. They hired 1070 to haul their cars back to Acme, WA.
Around 1925, 1070 was moved to the Tacoma Division. In May, 1950, #1070 was converted from burning coal to burning oil.
This locomotive featured in the film "The Grey Fox", "Trainsongs", And its wheels make a brief appearance in "Hard Hat Harry: Trains".
In 1988 the locomotive used pulled oil cars by the Burlington Northern Railway.
The #1070 was part of a order of Class L-9 0-6-0's the Northern Pacific ordered from Alco.
The NP #1070 is a leased Alco S-1.
Ad blocker interference detected!
Wikia is a free-to-use site that makes money from advertising. We have a modified experience for viewers using ad blockers

Wikia is not accessible if you've made further modifications. Remove the custom ad blocker rule(s) and the page will load as expected.