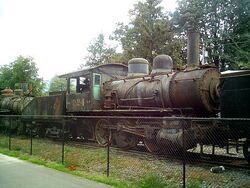 Northern Pacific No. 924
is a Class L-5 0-6-0 steam locomotive built in 1899 by the Rogers Locomotive Works as their serial number 5425.
She was built for the St. Paul & Duluth RR as their #74.
She later was purchased by the Northern Pacific who renumbered her as their #924.
This engine was deemed to be surplus by the NP in the 1920's and was sold to the Inland Empire Paper Co. of Spokane, Washington.
Today, she is located at the Northwest Railway Museum. She is the only surviving member of her class.
In 2014 she and another locomotive, Canadian Collieries 14, were chosen for restoration for the Museums Steam Program. Major Work started in early 2015; she is expected to begin operation in late 2018 to operate with Santa Cruz Portland Cement Co. No. 2. Her restoration is going on as of late 2017.