PBR DH 31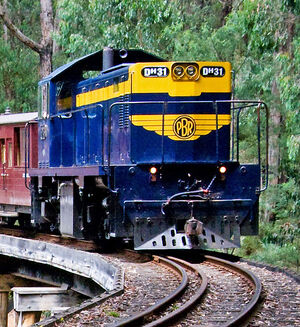 DH 31 on 20 January 2010
Details

Years built

Unknown

Builder

Walkers Ltd.
Maryborough, Queensland, Australia

Number Produced

1

Years in Operation

1970–present

Fleet Numbers

DH31

B-B

Number Operational

1

Number Preserved

Unknown

Number Scrapped

0

Dimensions
(l x w x h)

Unknown

Gauge

2ft 6in (762 mm)
V - E - T - D
DH 31 is a DH Class four-axle B-B diesel-hydraulic locomotive which runs on the Puffing Billy Railway. This locomotive usually runs on the rails through the Dandenong Ranges on days of total fire ban, due to a PBR policy which discourages the running of their steam locomotives.
Originally from the railways in Queensland, Australia. It was built, in 1970, by Walkers in Maryborough, Queensland, for Queensland Railways. It was withdrawn from service in the Queensland Railways in 1994. It was then bought by E.T.R.B. (The Emerald Tourist Railway Board; which run the Puffing Billy Railway.) in 1995, and after a conversion to 2ft 6in (762mm) gauge in Queensland, 1996, transported to Belgrave for an over-haul. Later that year it re-entered service with the Puffing Billy Railway. For awhile, the locomotive retained its original Q.R. number of DH 59, and Q.R. livery, but without Q.R. badges. Now re-painted in Victorian Railways Blue and Gold livery, with a Puffing Billy Railway badge it once again carries its original Q.R. number: DH 59.
References
Edit
Ad blocker interference detected!
Wikia is a free-to-use site that makes money from advertising. We have a modified experience for viewers using ad blockers

Wikia is not accessible if you've made further modifications. Remove the custom ad blocker rule(s) and the page will load as expected.