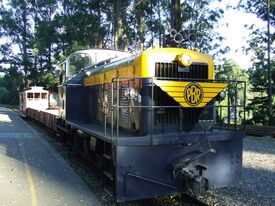 D 21 is a three-axle 0-6-0 diesel locomotive switcher (or shunter) that runs on the Puffing Billy Railway. The loco is really a shunter, but on the narrow-gauge line it can help DH 31 on days of total fire ban.
D 21 began life as the Tasmanian Government Railways V 12 locomotive, in 1968. It had a 3ft 6in (106cm) gauge. In 1978 ownership of the loco was transferred to the Australian National Railways (Tas.). Withdrawn from service and sold to the E.T.R.B. in 1983, and regauged to 2ft 6in (76.2cm) in 1984 and was transported to the Emerald Carriage Workshops where it was rebuilt. It was renumbered D 21 and returned to service in 1987. After being repainted in an inauthentic Hawthorn green, D 21 was then repainted again in traditional Victorian Railways Blue & Gold.
References
Edit
Ad blocker interference detected!
Wikia is a free-to-use site that makes money from advertising. We have a modified experience for viewers using ad blockers

Wikia is not accessible if you've made further modifications. Remove the custom ad blocker rule(s) and the page will load as expected.