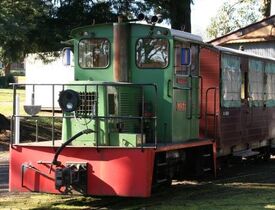 NRT 1 is the two-axle Ruston diesel rail-tractor that works as the shunter for the Puffing Billy Railway.
NRT 1 was built in 1951 with a 3ft gauge and was operated on the State Electricity Commission of Victoria's Kiewa scheme. It was re-gauged, some years later, to 2ft 6in for operation by the Melbourne & Metropolitan Board of Works. It was taken to P.B.P.S. (the Puffing Billy Preservation Society) Steam Museum in 1977. Where it was stored until '78, when it was moved to the Emerald Carrage Workshops. It was returned to service in 1983 and named NRT 1, following a Victorian Railways classification procedure as a narrow-gauge rail tractor. Strangely it was given number-plates and a Hawthorn green livery.
Soon (it is thought), NRT 1 will receive the Red livery of V.R. rail tractors and Black painted on number & class.
References
Edit
Ad blocker interference detected!
Wikia is a free-to-use site that makes money from advertising. We have a modified experience for viewers using ad blockers

Wikia is not accessible if you've made further modifications. Remove the custom ad blocker rule(s) and the page will load as expected.