This article is about the VR locomotive, see also Steam locomotive#Types/Forms.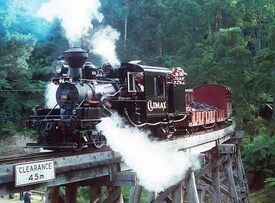 Climax locomotive No. 1694 is a B-B, Climax steam locomotive. Which means the locomotive has a boiler over two power bogies. The top speed of the locomotive is only 13 km/h (8 mph) due to its Climax design. #1694 is one of only four Climax type locomotives still operational in the world, and is the only to be on 2ft 6in gauge. The other three are located in the USA.
No. 1694 was built in 1928 for the Forests Commission of Victoria by the Climax Manufacturing Company. It was painted black with "CLIMAX" painted on the sides of the cab in white block letters. The loco was issued to the Tyers Valley tramway. This tramway branched off the main line, the Moe to Walhalla line, at Collins Siding. No. 1694 was withdrawn from service in 1949 after the tramway was closed. In 1950 the loco was moved from Tyers Junction to Erica for storage. Then in 1965 it was taken to Menzies Creek, after being loaned to the Puffing Billy Preservation Society for the Steam Museum at Menzies Creek. In 1982 the Emerald Tourist Railway Board bought the loco and sent it to Belgrave for restoration. By 1988 it was back on the rails and running special trains in its all black livery. Though there was one change, the name Climax on the sides of the cab where now painted in the style of the Climax Manufacturing Company's name.
After a decade long restoration costing about AUS$700,000 in donations, and loans supported by donations, #1694 is to be back on the rails in September, 2013. The restored parts include the boiler, frame, gears and brakes, and new parts consisting of wheels and axles.
References
Edit
Book: The Railway Data File published by Siverdale Books. ISBN: 1-85605-499-3.